Together with our partner secunet, we offer the possibility to fully manage your existing devices and brownfield systems, so that your vulnerabilities and risks are significantly reduced.
Rely on the customized protection of all your network segments with the help of the industrial platform of ondeso and secunet, which is completely "Made in Germany".
When asked what marks up the combined solution, Sebastian Pfaller, Head of Product Management at ondeso, answers the following: "The combined solution from ondeso SR and secunet edge gives users full access and transparency for their systems, despite separate network areas. This allows OT components in production landscapes to be monitored AND managed easily and securely." Diego Sanchez, EcoSystem Partner Manager at secunet, adds: "Companies also benefit from the expertise gained from 30 years of combined experience in the areas of IT security and industrial IT management. So, it was particularly important to us from the outset that our solution could not only be deployed in the greenfield but could also be seamlessly integrated into the daily processes of the existing systems in the brownfield."

Focused measures for optimal protection
Whether technical malfunction, fluctuations in performance or possible attacks on the network, secunet edge offers you the optimal solution for data processing and monitoring of your industrial plants. Combined with ondeso SR, you are able to actively manage the OT devices of your facilities. With the latest software and updates, an always up-to-date inventory of your systems and a reliable backup & recovery solution, you will succeed in reaching a new level of OT security.
Sounds interesting?
If you also want to manage your OT components safely and reliably using technology "Made in Germany", we have summarized the most important points for you in the following document.
Here you can download the file as PDF: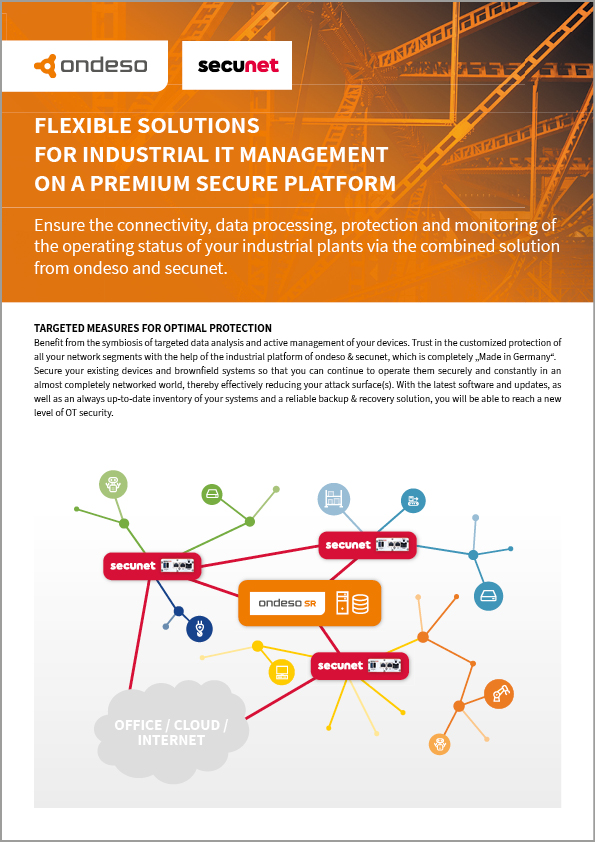 For more information click here:
Product video secunet edge
Product video ondeso SR
---

secunet is Germany's leading cybersecurity company. In an increasingly connected world, the company's combination of products and consulting assures resilient digital infrastructures and the utmost protection for data, applications and digital identities. secunet specialises in areas with unique security requirements– such as cloud, IIoT, eGovernment and eHealth. With security solutions from secunet, companies can maintain the highest security standards in digitisation projects and advance their digital transformation.
www.secunet.com/en
---